A few words about us
WHO
WE ARE?
Rich in both history and tranquillity, this hidden sanctuary of Edgecliff at Penang Hill transports you back to time and takes you closer to nature. Immerse yourself in a learning experience beyond the walls and become one with nature surrounding the Edgecliff Bungalow.
Sepatah kata tentang kami
SIAPA
KAMI?
Kaya dengan sejarah dan ketenangan, kawasan perlindungan Edgecliff yang tersembunyi di Bukit Bendera ini mengembalikan anda ke masa lalu di samping mendekatkan anda dengan alam semula jadi. Asyikkan diri anda dengan pengalaman pembelajaran yang melangkaui dinding dan bersatu dengan alam semula jadi di sekitar Banglo Edgecliff.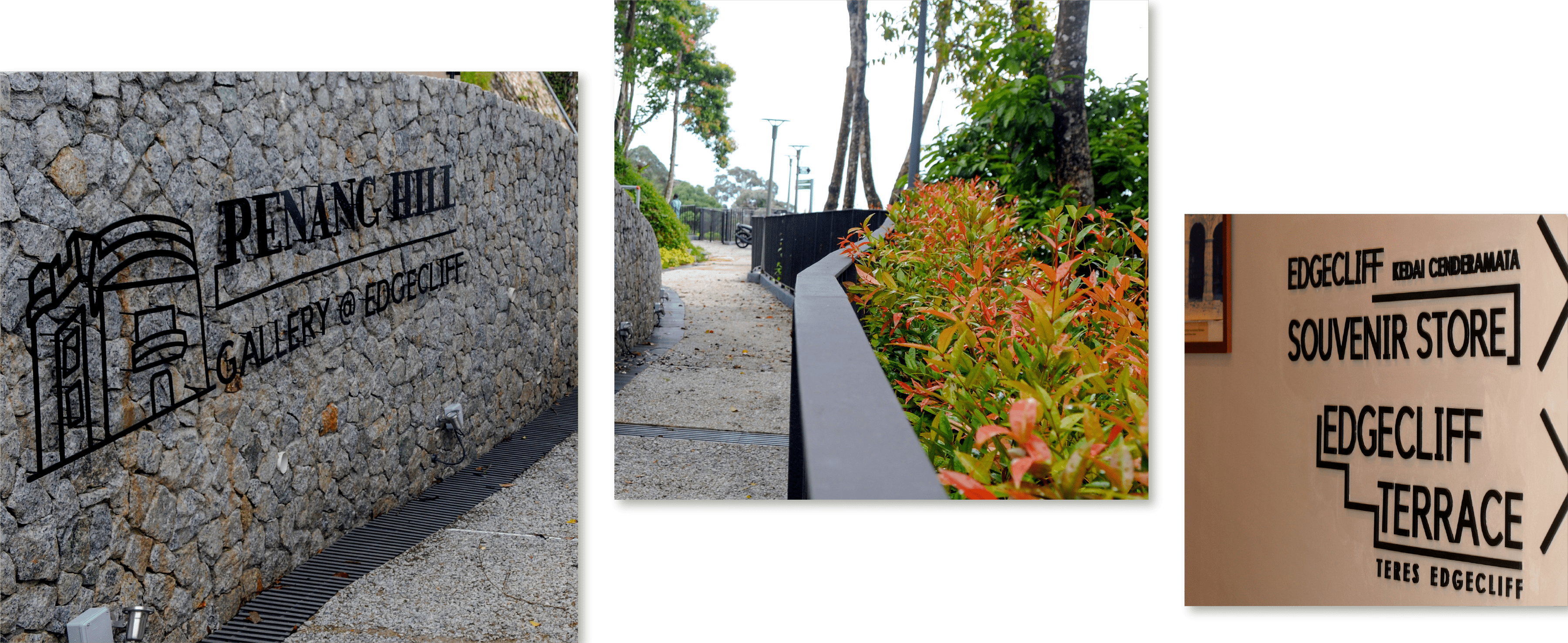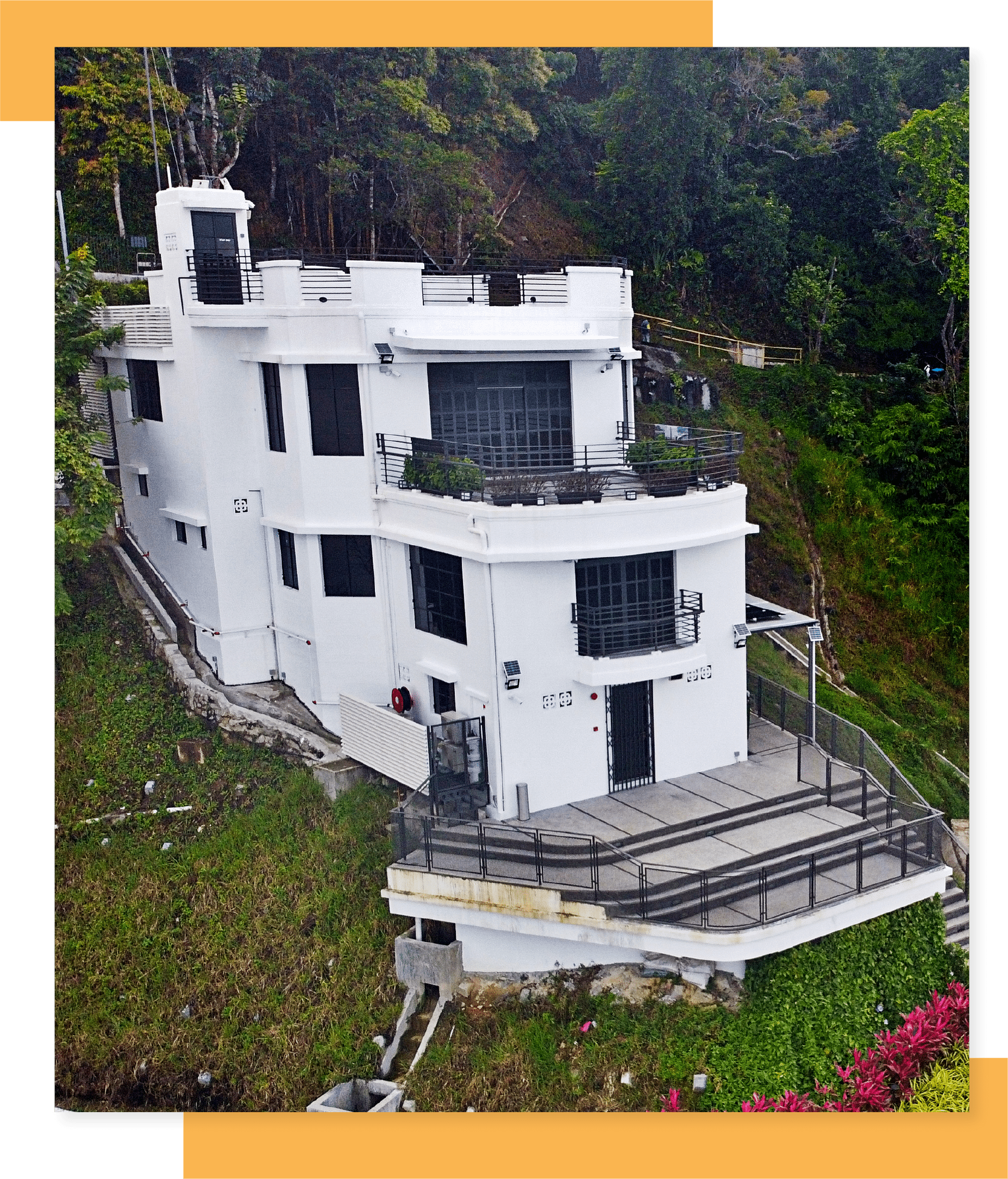 Background (History)
ON THE EDGE
OF A HIGH CLIFF
Edgecliff Bungalow (originally Braeside) enjoys an astounding view of Penang's east coast. Although designed by the Scottish architect J.C. Miller as a private bungalow, the Penang Government acquired it only two years later. Overlooking the Penang strait from the port to the north down to the airfield to the south, its strategic importance was too obvious to be ignored. In 2019, Penang Hill Corporation and the Penang State Government initiated the idea of preserving and conserving Edgecliff Bungalow; restoring it into the first information and education centre on Penang Hill for travellers, visitors, world explorers, researchers, scientists, academicians and the intellectually curious.

Today, Penang Hill Gallery@Edgecliff stands majestically watching over the UNESCO World Heritage Site of George Town. Divided into 5 gallery exhibits (Funicular Train, Time Tunnel, Biodiversity, Heritage, Cultural), Penang Hill Gallery@Edgecliff tells meaningful stories of Penang's highest point from the lenses of those who have lived through its rich history, heritage and time.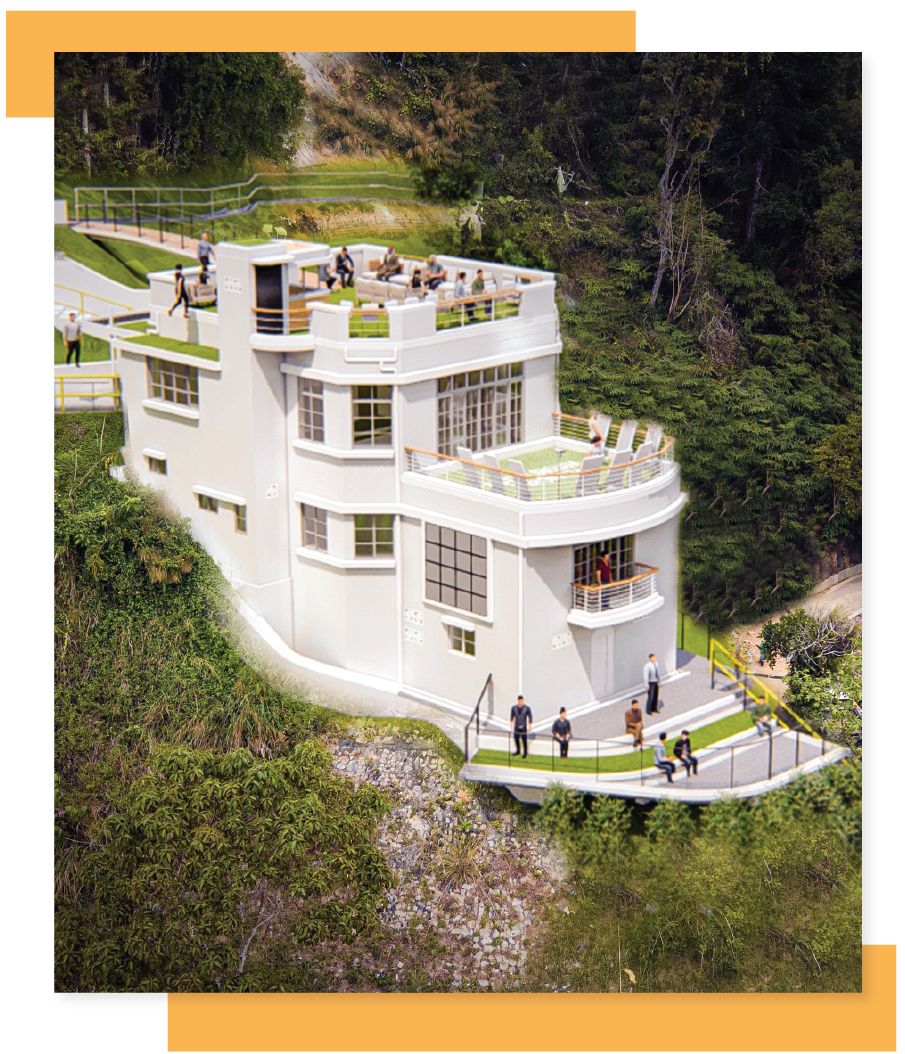 LATAR BELAKANG (SEJARAH)
DI PINGGIR TEBING
YANG TINGGI
Banglo Edgecliff (asalnya Braeside) menghamparkan pemandangan pantai timur Pulau Pinang yang menakjubkan. Walaupun ia direka oleh arkitek Scotland JC Miller sebagai banglo persendirian, Kerajaan Pulau Pinang telah memperolehinya dua tahun kemudian. Menghadap selat Pulau Pinang dari pelabuhan di utara hingga ke lapangan terbang di selatan, kepentingan strategiknya terlalu ketara untuk diabaikan. Pada 2019, Perbadanan Bukit Bendera dan Kerajaan Negeri Pulau Pinang telah memulakan idea untuk memelihara dan memulihara Banglo Edgecliff; mengembalikannya sebagai pusat maklumat dan pendidikan pertama di Bukit Bendera untuk pengembara, pelawat, penjelajah dunia, penyelidik, saintis, ahli akademik dan mereka yang ingin tahu secara intelek.

Hari ini, Gallery@Edgecliff di Bukit Bendera berdiri megah menghadap Tapak Warisan Dunia UNESCO George Town. Ia di bahagiakan kepada 5 pameran galeri (Kereta Api Funikular, Terowong Masa, Biodiversiti, Warisan, Budaya), Gallery@Edgecliff Bukit Bendera menceritakan kisah bermakna tentang puncak tertinggi Pulau Pinang dari kaca mata mereka yang telah mengharungi sejarah, warisan dan zamannya yang kaya.
Experience it for yourself today. No visit to Penang Hill is complete without visiting Penang Hill Gallery@Edgecliff.
Alaminya sendiri hari ini. Tidak lengkap lawatan ke Bukit Bendera tanpa melawati Gallery@Edgecliff Bukit Bendera.
ESTABLISHMENT OF EDGECLIFF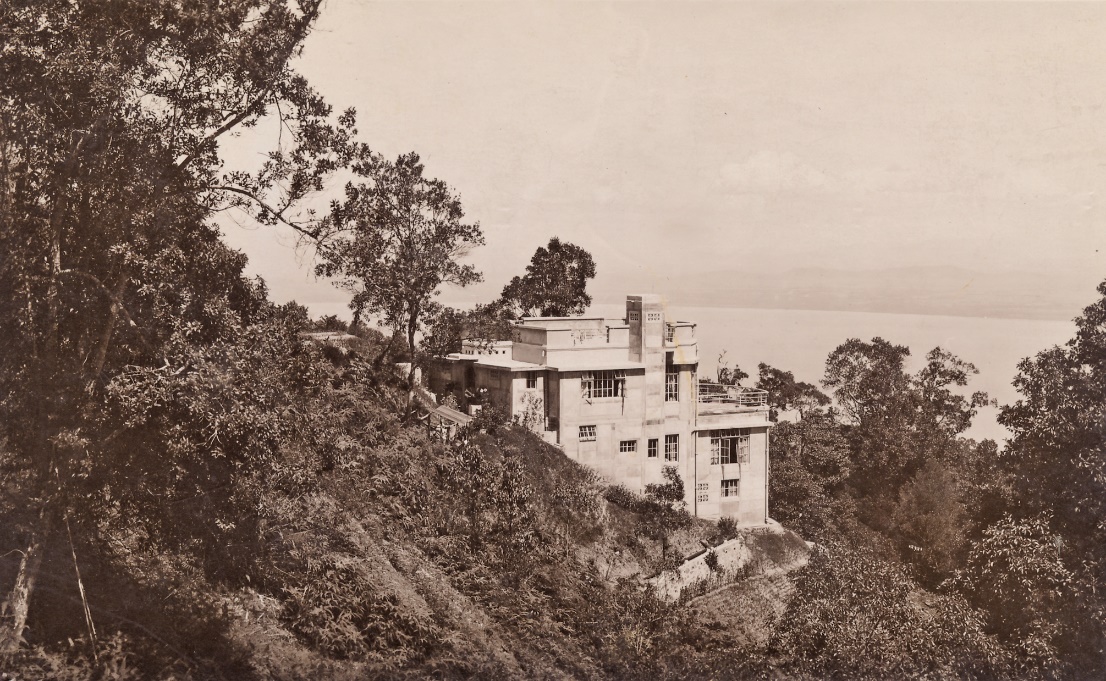 Edgecliff was built by architect Joseph Charles Miller
Penang Hill Corporation is formed
Edgecliff Gallery is now listed under the care of Penang Hill Corporation
Penang Hill Landslide Recovery Efforts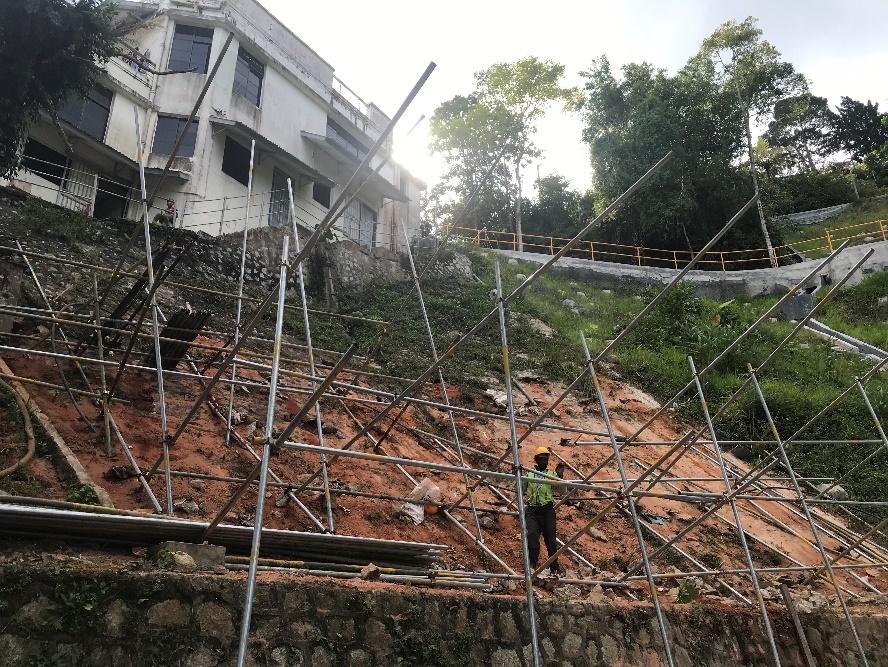 Commencement of conservation work
Penang Hill Gallery@Edgecliff is launched